Get Into... Web Development
How I created an online interview series.
Friday 5 June, 2020 • Suze Shardlow • 6-minute read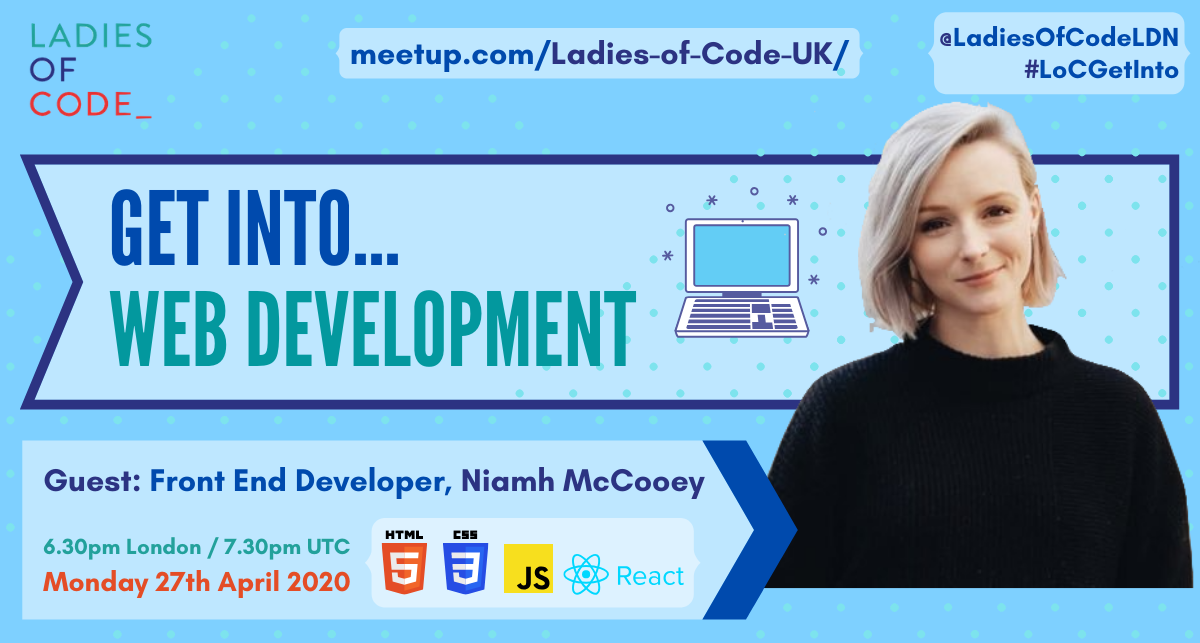 I've been looking at ways to innovate our Ladies Of Code (LoC) London offerings now that COVID-19 has forced us 100% online, which led to me devising an interview format for our Get Into… series.
Get Into… is where we demystify roles in the tech industry. Our first event was Get Into… Gaming and AI, which was a traditional talk with slides and was very popular. We're currently in lockdown and, while we used to plan one in-person meetup per month, we've been producing at least two every week since the beginning of April.
I'm not sure whether this is because:
Time in lockdown is going 100 times slower than normal time so monthly just seems like too long, or
We LoC organisers have to pay for our community's Zoom subscription out of our own pockets, so we want to get the most value out of it, or
Not having a physical venue, host, catering etc means the lead time for setting up an event is WAY shorter.
Either way, we've been keen to keep up the momentum and support our community with opportunities to get together and learn stuff.
LoC events cater for those who are already in tech and want to level up and/or switch tracks as well as those who are new to the industry. People are always keen to hear from those who have gone before them. So we had a think about some of the roles people are most curious about. I am a web developer, so I took an action to find someone who could talk about how they got into web development.
Before the event
Sourcing a speaker/format selection
Person and role
I knew exactly whom I wanted to interview. I had met Niamh McCooey at an event last year and she was at GDCFP Day too. Later in 2019, as experienced speakers, we gave talks at the same tech meetup.
Niamh's story is a bit different because she taught herself. I wanted to highlight this as a viable route to paid coding work which may be an option for those who can't access bootcamps or similar courses.
Format selection
I know talks take weeks to write. I wanted to reduce the labour on Niamh as well as minimise the lead time. I hit upon the idea of using a chat show-style interview format instead of asking Niamh to write a new talk.
Advantages to the speaker:
There's very little labour. Niamh fed back that it was great that she had to do zero prep and could just turn up.
They don't have to think about timekeeping - they can rely on me for that.
The speaker doesn't have to worry about whether what they're going to say will cover all the desired topics, which might be the case if they had to write a talk.
It's more fun to sit and have a chat than it is to give a presentation.
They get instant verbal feedback, which doesn't happen when you give a talk - especially online - unless you ask the audience to jump in with questions while you're speaking.
The sessions are recorded and uploaded to YouTube, so they can point to these as examples of public speaking.
Advantages to me:
I have more control over aligning the content with the desired event outcomes.
We can have a longer session: a long talk is usually about 30 minutes plus Q&A whereas this would be nearly an hour of Q&A and discussion.
I can manage the timekeeping on the night and ensure adherence to the schedule.
It's a bit different from the other tech meetup webinars, so potentially more engaging.
Disadvantages to me:
All the labour is on me. When you use this format, you (should) have a set of pre-written questions. You also need to be a good multitasker. This involves listening to the answers while deciding what you want to ask next, identifying which threads you'll pick up and develop, determining how you'll weave the live Q&A in and establishing when's a good time to stop. However, it's worth it for the results.
I already knew Niamh, so this wasn't an issue, but if you are going to approach someone you don't know too well/have never heard speak, you don't know how forthcoming they will be/how much probing you will need to do to get the information you need.
Creating a YouTube channel
I wanted the interview series to have some longevity and be available for those who couldn't watch it live, so I created LoC's first YouTube channel.
Branding and promotion
The name of this series was Get Into… (we also have our project co-working series Get On With It and Get Coffee, our lean coffee series). I created an eyecatching Get Into… brand and promotional banner (the one at the top of this page) to use on meetup.com and across social networks (including YouTube). I designed it so it was easily adaptable for other events in the series while retaining the same look and feel.
Questions
On the day, I had a set of questions I had prepared beforehand, along with some which had been suggested by attendees. I decided to weave the latter into the interview, as opposed to ask them in a big unordered chunk at the end of the discussion.
Host questions
As mentioned earlier, the interview format works perfectly for getting guests onboard and in the hot seat quickly, because they immediately recognise that they have very little work to do beyond giving up a couple of hours of their time to talk to you.
I chose my questions carefully and put a lot of thought into how to structure the interview. I didn't purely want to go through a chronological description of how Niamh changed careers. Therefore I arranged the questions into three themes:
Discovering and learning
Getting confident; getting paid to do coding
Continuous learning and what's next in the career journey
I also came up with the idea of doing two speed rounds. This was partly because I knew Niamh and knew she would be a good sport, but also to break the interview up. It's hard for the audience to stay focused when they've been staring at a screen all day so I wanted to change up the pace and tone. Here are the clips:
Audience questions
We invited attendees to suggest questions either when signing up for the event, or in the Zoom chat function during the interview. Some of the questions were similar to each other or to questions already on my list, so I didn't ask all of them verbatim.
During the event
We always make sure we have one person whose job it is to be the Zoom host, so they can manage any code of conduct violations etc. Therefore my only role at this event was to interview Niamh. Like I said earlier, this required a lot of focus and flexibility as audience questions were being sent to me which I had to assess quickly while still listening to what Niamh was saying and formulating my next response.
After the event
I'm not an expert in video editing but I wanted to make it look less plain than a basic Zoom recording. Therefore I post-produced the video, by:
Chopping the excess recording from before and after the actual interview material.
Adding the LoC Get Into…-branded banner to the video.
Pulling the two speed rounds out to share as "taster videos" on social media.
I created a YouTube channel for LoC and uploaded the video.
I then promoted the video across social media.
Here is the full interview:
If you have a suggestion for a role we could feature on Get Into… or would like to speak at one of our events, please contact me!
---